Adult Senior Nutrition Program
Food insecurity is an issue in Philadelphia, as it is around the country, but in Philadelphia County, 22% of residents are food insecure and 1 in 3 are SNAP recipients. AUNI offers nutrition education for adult community members and caregivers (ages 18 years and older) at our school partner sites through the Adult Senior Nutrition Program (ASNP), which is grant-funded through the PA Dept of Human Services and USDA SNAP-Ed. ASNP is available at no-cost to our host-sites as well as community members.
Classes are one hour and generally consist of a nutrition lesson, assorted activities, including physical activity and a hands-on cooking workshop, all designed to enhance nutrition education and reinforce dietary constructs. We also provide a wide array of free resources to participants including booklets, handouts, coupons and food tastings. Participants will also be provided with a copy of each recipe so they may begin the process of building their own library of affordable, healthy, easy, accessible, and delicious recipes (mirroring AUNI's Think AHEAD Model) that can be built into a keepsake book to be used time and again. Healthy eating never tasted so good!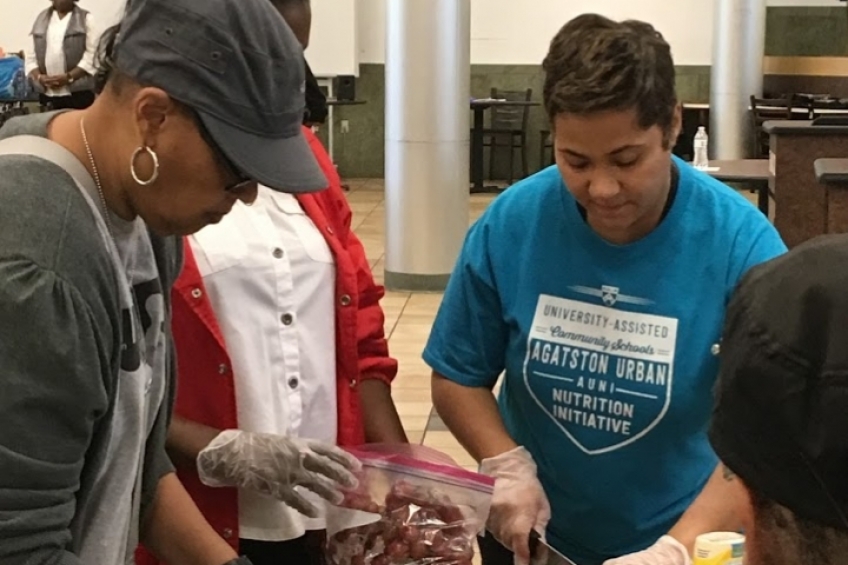 ASNP is currently available at 22 sites year-round. The following sites are open to the public:
Dedicated Senior Medical Center North (2101 West Lehigh Avenue, Suite A)
Dedicated Senior Medical Center West (1575 North 52nd Street, Suite S-3)
Ezekiel Baptist Church (5701 Grays Avenue, #39)
Free Library of Philadelphia - Walnut Street West (201 South 40th Street)
Overbrook Environmental Education Center (6114 Lancaster Avenue)
Sayre Health Center (5800 Walnut Street)
United Community Clinic (4159 West Girard Avenue) 
For more information about the program or to get involved, contact Melissa Sattler Gordon, MSPH, RD at 215-573-1291 or msattler@sas.upenn.edu.