Good Food Bag
The Good Food Bag Program and accompanying high school gardens are a food sovereignty project of the Agatston Urban Nutrition Initiative (AUNI). The youth-led initiative offers weekly CSA (community-supported agriculture) shares and markets to West Philadelphia residents. Students from William L. Sayre High School and Paul Robeson High School for Human Services are invloved with all aspects of the gardens through planning, maintaining, and harvesting. Sayre High School features a 1/3 acre school courtyard garden and Robeson High School has multiple raised beds, and aquaponics unti, and an aeroponic unit.
Each Good Food Bag contains five pounds of fresh, delicious, locally grown, chemical-free produce. Participants can expect a root crop, a vegetable, a cooking green, a salad green, a specialty item, and a newsletter that includes highlights and food sovereignty tips. Good Food Bag members become a school garden partner, receive weekly seasonal recipes, and are invited to participate in workshops on growing and preparing healthy food. Weekly markets contain seasonal fruits and vegetables that can be purchased separately or along with a CSA share.
The Good Fod Bag program partners with the Dr. Bennett L. Johnson Jr. Sayre Health Center and the Red Cross House. These organizations serve as CSA pick-up and market locations, provide patient and client referrals, and engage with AUNI students.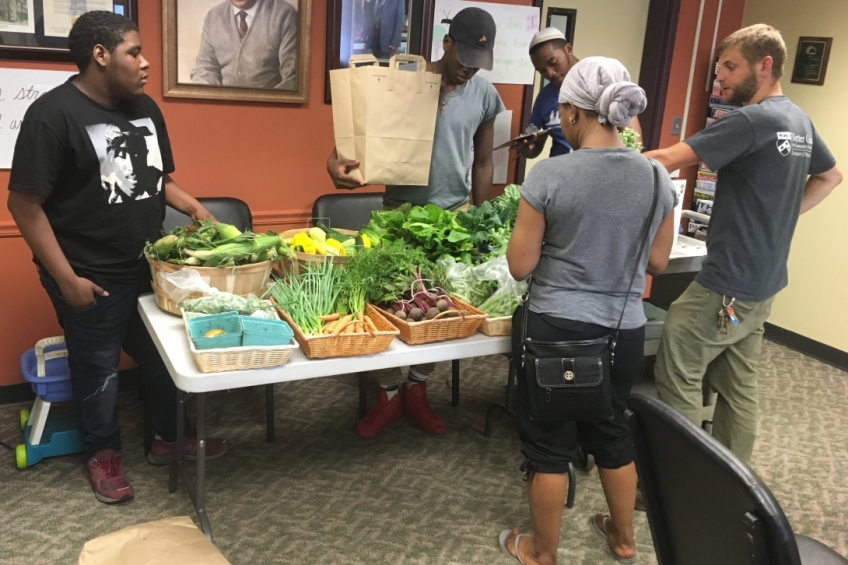 Pick-Up Days and Locations
West Philadelphia residents can pick up their Good Food Bags at AUNI's farm stand on Tuesdays at the Dr. Bennett L. Johnson Jr. Sayre Health Center (5800 Walnut Street) between 3:30 pm and 5:00 pm OR at the farm stand on Wednesdays at the Red Cross House (4000 Powelton Avenue) between 4:00 pm and 5:00 pm. Participants can choose which location works best for them upon signing up. 
AUNI strongly encourages all participants to assign a designated representative to pick up their share if they cannot do so OR let an AUNI CSA Nutrition coordinator known in advance if they are going to miss a week.
Prices
Full Price Share (cash, check, money order): $35.00 monthly
Low-Cost Share (SNAP/EBT, WIC, Seniors, and Prescription for Nutrition Health Center Patients): $25.00 monthly
Workshop Discount: One $5.00 credit per month for attending any of AUNI's Adult Senior Nutrition Program classes.
Full Season Share: $210 full price OR $150 low cost
Payments are due on the first Tuesday or Wednesday of each month, unless participants purchase a full season share. Payments can be made in cash, check, money order, SNAP (EBT) card, WIC Farmers Market Nutrition Program (FMNP) vouchers and Senior Farmers Market Nutrition Program (SFMNP) vouchers. AUNI will accept a combination of any two of these forms of payment.
Interested in becoming a Good Food Bag CSA member? Please e-mail CSA Nutrition Coordinator Eric Sherman (ericjsh@sas.upenn.edu) with any questions.