Anea Moore, C'19
Rhodes Scholar Anea Moore is focused on community engagement in Philadelphia and eventually having a national impact. Through the Netter Center's Academically Based Community Service Courses and internship opportunities, Anea is working to achieve that goal.
"During my darkest of times after my mom died freshman year, it was the students at the Lea School that pulled me through. Seeing them every week through my work with the Netter Center was the light in a dark tunnel that I couldn't always picture the end of. I am a 2019 Rhodes Scholar and a 2018 Truman Scholar now only because of them."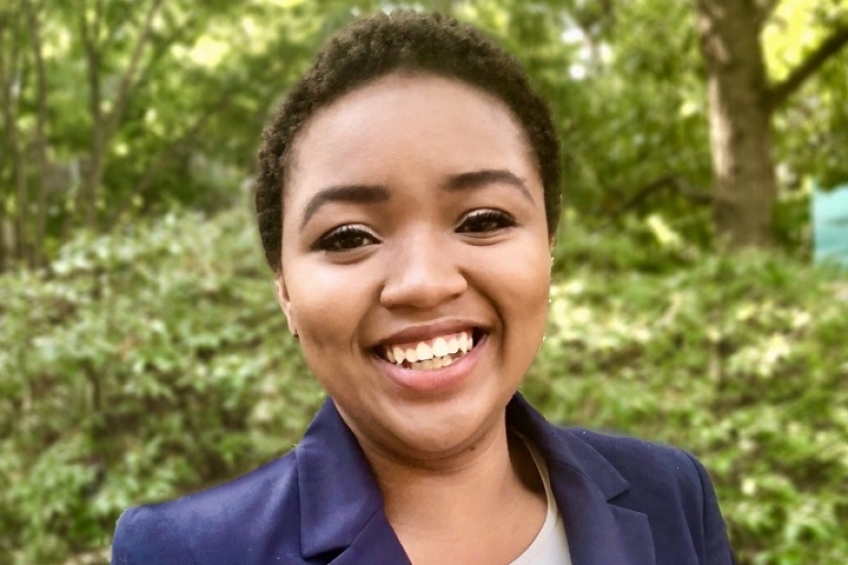 Name: Anea Moore
Hometown: Philadelphia, PA
Explore Her Journey at The Netter Center and Penn Social Sciences
When Anea came to Penn, she was a pre-med student. She planned to major in psychology and ultimately become a child psychiatrist. But, Anea discovered that her passions lay elsewhere. By exploring other careers and areas of interest, Anea soon learned that sociology and urban studies in the College, as well as Law School classes, resonated the most with her. Through that exploration, Anea now feels that pursuing a career in law and public policy will be her way to have an impact.
Netter Center and Community Engagement
Anea was always interested in taking ideas learned in the classroom and applying them to solve real world problems. Actually doing this in practice was made possible through the Netter Center. Anea was introduced to Netter as a freshman when she enrolled in a seminar, Music and Urban Spaces. As an Academically Based Community Service (ABCS) course, this seminar gave Anea the opportunity to learn about Netter and how she might integrate research, service and learning.
As she was looking for summer opportunities during the spring semester of her freshman year, Anea learned about Netter's Penn Program for Public Service (PPPS) internship. As part of PPPS, Anea took Dr. Ira Harkavy's class, researched and wrote about finding ways to increase parent participation at Lea School, a K-8 public school in West Philadelphia. During the internship, she became the school's Assistant Family Coordinator, a position she continues to hold into her senior year. She helps run parent workshops and implements programs to increase parent engagement. Concurrently, Anea is working with a PhD student at Penn's Graduate School of Education on a 4-year study at Lea School on community partnerships. The study examines how to improve the school's 64 partnerships and increase community engagement. From Anea's time at Lea and working with its families, she has become increasingly interested in public policy focused on early childhood.
Her other major Netter Center commitment has been continued work with the Music and Social Change program. The program offers choir and orchestra programs at two schools. As part of the program, Anea is a choir director for students in kindergarten and first grade. It has been especially rewarding to offer programs that would otherwise not exist. Currently, Anea is a Teaching Assistant for the Music and Urban Spaces year-long ABCS course with Dr. Molly McGlone. She has also served as Chair of the Netter Center's Student Advisory Board her junior and senior years.
These diverse and rich experiences helped Anea further clarify what she wanted to study at Penn, as well as her longer-term career goals.
Penn First
Anea has also been actively involved with Penn First, a student organization for first-generation college students and students from a low-income background (FGLI). Penn First's mission is to build a community for all FGLI students on campus through mentorship programs and events. Anea started as a Penn First board member helping to develop programs and to increase participation. Partly, as a result of these efforts, Penn First's presence on campus continues to grow. Anea then became the co-chair of IvyG, the largest FGLI student conference. Initially, only a few universities could participate. Anea strongly felt that the conference should be open to a larger audience. She brought the conference to Penn and expanded it to 26 schools. It was a huge success with 600 students sharing ideas and experiences over the three-day conference.
Life After Penn
During her junior year, Anea was named a Truman Scholar. The Truman Scholarship is a prestigious graduate scholarship for aspiring public service leaders in the United States. Recipients must demonstrate outstanding leadership potential, communication skills, and academic success, and be committed to careers in government or the non-profit sector.
And during her senior year, Anea was awarded a Rhodes Scholarship – considered one of the most prestigious academic honors – for graduate study at the University of Oxford in social policy. Her scholarship applications focused on her work at Lea Elementary School. Anea plans to attend law school after returning to the U.S. From there, she hopes to get involved with public policy and advocacy for families and early childhood programs in Philadelphia. This desire stemmed from her experiences at Netter and time at Penn.