Penn Program for Public Service Summer Internship
~ Apply Early Admission by Sunday, November 5, 2023! ~
Regular Admission Deadline: Sunday, January 28, 2024
*PPPS is only open to Penn undergraduates who will be rising sophomores, juniors, or seniors.
Attend a virtual information session to learn more about the program and hear alumni share their experiences:
Program Dates: Monday, May 28 - Friday, August 9, 2024
The Penn Program for Public Service (PPPS) Summer Internship is an 11-week multi-faceted summer program that immerses approximately 10-12 undergraduates in real-world problem solving in the West Philadelphia-Penn community. At the core of the internship is an action-oriented, Academically Based Community Service (ABCS) seminar, "Faculty-Student Collaborative Action Seminar in Urban University-Community Relations: Penn and West Philadelphia as a Case Study in Progress," led by the director of the Netter Center for Community Partnerships at Penn, Dr. Ira Harkavy. Each undergraduate in the seminar works collaboratively to help solve a strategic "ill-structured" problem of his or her choosing in West Philadelphia by:
Actively participating in the seminar;
Conducting individual and group research centered on pressing problems affecting Penn and the West Philadelphia community (example of a Problem Solving Learning final paper HERE); and
Working 30+ hours a week as an intern in a university-assisted community school program.
The Public Service Internship program is a key component of the University of Pennsylvania's ongoing efforts to develop ABCS courses and programs that involve undergraduates, faculty, and community members in partnerships to advance learning and improve the quality of life in West Philadelphia.  Students participating in the Public Service Internship have played leading roles in creating a variety of the programs and projects that currently involve Penn students, faculty, and staff with West Philadelphia schools, hospitals, and other community organizations.
The Penn Program for Public Service Internship is considered equivalent to a full-time job and students will not be permitted to take additional classes or work outside of the internship.  Interns will receive:
One free course credit*
Payment at $12.50/hr (taxable)**
Free housing*** 
*This is a graded course and fulfills the Cultural Diversity in the U.S. foundational approach for the College of Arts & Sciences.*
**If you are eligible for summer federal work-study funding, we highly encourage that you apply for a summer work-study award through Student Financial Aid Services. If selected for the PPPS program, we will then apply your work-study award to this internship.**
***Interns must live in the housing provided by the program. A key part of the experience is cultivating a live-learning community!***
Click here to read an article by a PPPS alumna about her internship experience!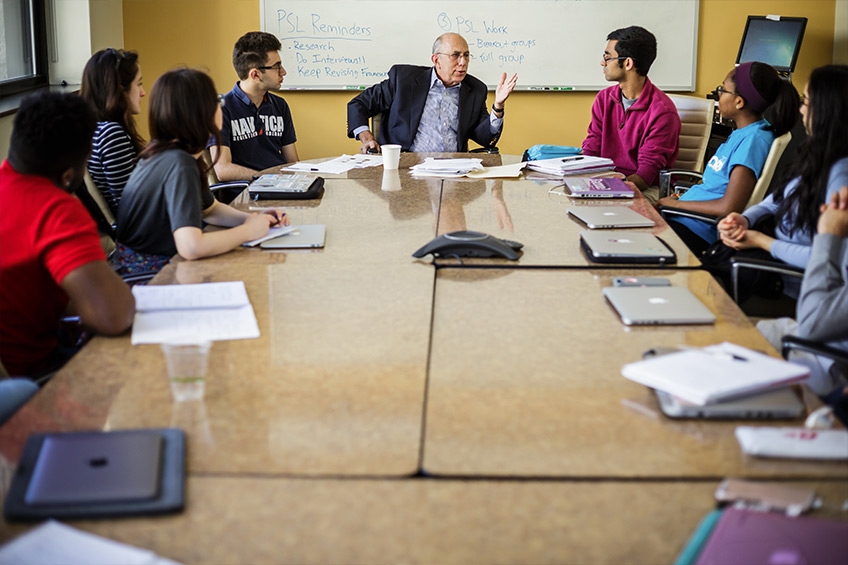 HOW TO APPLY:
1. Complete quick 2-min intake form here with basic personal information. This is to indicate your interest in applying.
2. Submit the following as PDFs here. Your application is considered complete only after you have submitted these materials along with the intake form.
Resume
Transcript (does not need to be official) - first-year students, please submit both a high school transcript and your Penn transcript
2-3 page double spaced statement considering the following. 
Who are you? What experiences, particularly community involvement, have shaped who you are today? What issues are important to you? What experience and/or skills do you have that will help you conduct research on pressing problems affecting Penn and the West Philadelphia community? What do you hope to gain from participating in the Penn Program for Public Service Summer Internship?
NOTE - please label each document with your first and last name as follows:  [Last Name]_[First Name]_[resume/transcript/statement].pdf
After submission, your files will be anonymized by PPPS staff coordinator and reviewed by ABCS faculty, Netter Center staff, and former PPPS interns.
Early decisions are announced mid-December. Regular decisions are announced in mid-March.
For more information, contact nettercenter@upenn.edu.